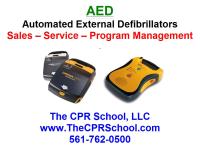 1. What is an AED and how does it work?
An Automated External Defibrillator or AED is a portable, battery operated electronic device about the size of a laptop computer. The AED automatically diagnoses the potentially life threatening cardiac arrhythmias of ventricular fibrillation and ventricular tachycardia in a victim and is able to treat the patient by an electrical shock which stops the arrhythmia, allowing the heart to re-establish an effective rhythm. AEDs are designed to be simple so that anyone can use one. So simple that I often start my classes by selecting someone from the class that has never seen an AED and I ask them to demonstrate how to use an AED by following the AEDs voice instructions. To date, the youngest person to effectively demonstrate the AED in one of my classes was 9 years old.

2. Why should I buy an AED?
In June of 2009 Michael Jackson died from Sudden Cardiac Arrest in June of 2008 Tim Russert of NBC's Meet The Press also died from Sudden Cardiac Arrest. According to the American Heart Association, sudden cardiac arrest claims about 340,000 lives each year – or around 930 every day in the United States. Sudden cardiac arrest, which is the leading cause of death in the United States kills more people than breast cancer, lung cancer, and AIDS combined. Currently 95 percent of all cardiac arrest victims die.

3. How expensive are AEDs?
AEDs range in price from about $1,200 to about $1,800. Although this is not inexpensive it is invaluable if it saves your life or the life of a friend, family member or coworker. Buying a used AED or buying an AED from a salesperson that has little or no knowledge about the AED is never a good idea. These are life saving devices – if they fail, your patient dies.

4. Who should purchase an AED?
Automated External Defibrillators (AEDs) are becoming more popular and can be found in many public places. FAA regulations require commercial aircraft that fly passengers to have AEDs on board. In Florida dental offices are required by law to have AEDs as are public schools. You will also find AEDs in many restaurants, health clubs, hotels, casinos, cruise ships, sports stadiums, malls, condo and homeowners associations, movie theaters and a variety of other locations.

5. What are the benefits of owning an AED?
Without the AED the chances of surviving Sudden Cardiac Arrest (SCA) outside of a hospital setting are very small – less than 5%. However, if the AED is applied to the victim quickly their odds increase to about 70% - 90%.

Keith Murray, owner of The CPR School in Jupiter Florida adds, "The AED that you purchase might save your life. Make certain that everyone who as access to the AED has been properly trained by a skilled instructor that has actually used CPR and AEDs in real life saving situations." Murray, a Florida firefighter EMT recently used an AED in the Atlanta airport to save a travelers life. The victim went into cardiac arrest, one of the passengers started CPR compressions, another rescue breathing, and Murray turned on the Medtronic Physio Control AED, applied the pads to the patients chest, pressed the shock button and it worked. The patient started breathing and is alive today because of the quick use of an AED.

To learn more about Automated External Defibrillator AED Sales, Consulting and CPR AED training, please visit http://www.TheCPRSchool.com or call Keith Murray at 561-762-0500.

AED Sales | AED Electrode Pads | AED Batteries | AED Upgrades | AED Trade In | AED Repairs | AED Program Management | AED Consulting

CPR AED First Aid Safety Classes for your Florida Business. Call us for your companies CPR AED and First Aid Training.

Miami-Dade County Florida – Aventura, Bal Harbour, Bay Harbor Islands, Biscayne Park, Coral Gables, Cutler Bay, Doral, El Portal, Florida City, Golden Beach, Hialeah, Hialeah Gardens, Homestead, Indian Creek, Islandia, Key Biscayne, Medley, Miami, Miami Beach, Miami Gardens, Miami Lakes, Miami Shores, Miami Springs, North Bay Village, North Miami, North Miami Beach, Opa-locka, Palmetto Bay, Pinecrest, South Miami, Surfside, Sunny Isles Beach, Sweetwater, Virginia Gardens, West Miami

Broward County Florida - Parkland, Coconut Creek, Deerfield Beach, Coral Springs, Margate, Pompano Beach, Lighthouse Point, Hillsboro Beach, Tamarac, North Lauderdale, Lauderdale-by-the-Sea, Sea Ranch Lakes, Oakland Park, Wilton Manors, Lazy Lake, Fort Lauderdale, Lauderdale Lakes, Lauderhill, Sunrise, Plantation, Weston, Davie, Dania Beach, Hollywood, Southwest Ranches, Cooper City, Pembroke Pines, Miramar, West Park, Pembroke Park, Hallandale Beach.

Palm Beach County Florida- Belle Glade, Tequesta, Jupiter Inlet Colony, Jupiter, Juno Beach, Palm Beach Gardens, North Palm Beach, Lake Park, Riviera Beach, Palm Beach Shores, Mangonia Park, Palm Beach, West Palm Beach, Haverhill, Glen Ridge, Palm Springs, Lake Clarke Shores, Royal Palm Beach, Wellington, Greenacres, Atlantis, Lake Worth, South Palm Beach, Lantana, Manalapan, Hypoluxo, Boynton Beach, Ocean Ridge, Delray Beach, Highland Beach, Boca Raton, Loxahatchee Groves.

Martin County Florida - Jupiter Island, Ocean Breeze Park, Sewall's Point, Stuart, Hobe Sound, Hutchinson Island part, Indiantown, Jensen Beach, North River Shores, Palm City, Port Salerno, Rio, Port Mayaca.

Okeechobee County Florida - Cypress Quarters, Taylor Creek, Ancient Oaks, Catterson, Sunset Strip, Barber Quarters, Basinger, Basswood Estates, Dixie Ranch Acres, Fort Drum, Hilolo, Mildred, Sherman, Treasure Island, Upthegrove Beach.